Breakthroughs in Regenerative Medicine
Products on this page are for Research Use Only. Not for use in humans unless proper investigational device regulations have been followed.
Harvard Apparatus Regenerative Medicine Products in the Media
The New York Times
A First: Organs Tailor-Made With Body's Own Cells
By Henry Fountain
CNN Health
Lab-made organ implanted for first time
By Madison Park, CNN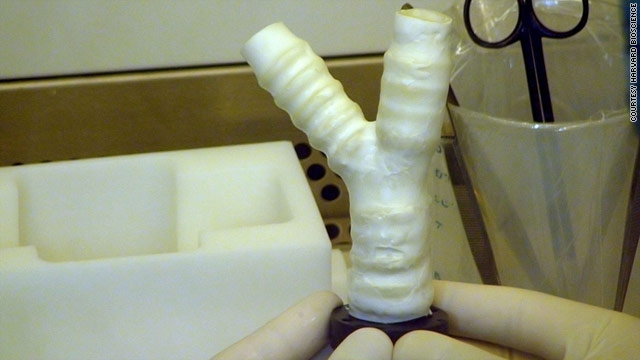 For the first time, a patient has received a synthetic windpipe that was created in a lab with the patient's own stem cells and without using human donor tissue, researchers said Thursday.
More...
USA Today
Patient gets world's first artificial trachea
By Steve Sternberg, USA TODAY
A patient will be discharged from a hospital in Sweden on Friday after his cancerous windpipe was removed and replaced by the world's first artificial trachea, made of his own stem cells grown on a man-made plastic matrix.
More...
Karolinska University Hospital
First Successful Transplantation of a Synthetic Tissue Engineered Windpipe
For the first time in history, a patient has been given a new trachea made from a synthetic scaffold seeded with his own stem cells. The patient, a 36-year old man, is well on the way to full recovery and will be discharged from the hospital tomorrow.
More...
BBC News Health
First synthetic organ transplant
By Fergus Walsh
Synthetic trachea
I've held a few strange body parts in my hands over the years - all I should stress, in the line of work. They have ranged from mechanical heart pumps to hi-etch prosthetic limbs. More...
BBC News Health
Surgeons carry out first synthetic windpipe transplant
By Michelle Roberts Health reporter, BBC News, in Stockholm
The replacement windpipe was grown in the lab
Scientists in London created an artificial windpipe which was then coated in stem cells from the patient. Crucially, the technique does not need a donor, and there is no risk of the organ being rejected. The surgeons stress a windpipe can also be made within days. More...
Bloomberg
World's First Laboratory-Grown Windpipe Is Transplanted in Patient
By Ryan Flinn
The first successful transplant of a synthetic windpipe grown from a patient's stem cells has saved the life of a 36-year-old African man, surgeons announced today.
More...
Forbes
Doctors use lab-made windpipe in transplant
By Associated Press
A 36-year-old man who had tracheal cancer has received a new lab-made windpipe seeded with his own stem cells in a procedure in Sweden they call the first successful attempt of its kind, officials said Thursday.
More...
Wall Street Journal
Lab-Made Trachea Saves Man
By Gautam Naik, Wall Street Journal
Doctors have replaced the cancer-stricken windpipe of a patient with an organ made in a lab, a landmark achievement for regenerative medicine. The patient no longer has cancer and is expected to have a normal life expectancy, doctors said.
More...
---
Watch Harvard Apparatus 3D Bioreactors Generate Whole Organs for research and human transplantation. Now at work in the laboratories of world leading scientists and surgeons as seen on NOVA scienceNow and National Geographic Explorer!
Eurovision Showcase SUPERCELLS: Doctors extract stem cells from a patient's hipbones, manufacture an artificial organ and save lives.

WGBH: A local biotech company grows organs for transplants

National Geographic Explorer: How to build a beating heart

NOVA scienceNow: Replacing Body Parts

Reuters: World's first synthetic trachea patient hails life-saving surgery

NY1: World's first artificial windpipe transplant may open the door to more procedures
---
Download the Latest Harvard Apparatus Regenerative Medicine Brochure
---
Selected Regenerative Medicine Publications Featuring Harvard Apparatus Products
Paolo Macchiarini, Philipp Jungebluth, Tetsuhiko Go, M Adelaide Asnaghi, Louisa E Rees, Tristan A Cogan, Amanda Dodson, Jaume Martorell, Silvia Bellini, Pier Paolo Parnigotto, Sally C Dickinson, Anthony P Hollander, Sara Mantero, Maria Teresa Conconi, Martin A Birchall
Regeneration and orthotopic transplantation of a bioartificial lung
Harald C Ott, Ben Clippinger, Claudius Conrad, Christian Schuetz, Irina Pomerantseva, Laertis Ikonomou, Darrell Kotton & Joseph P Vacanti
A double-chamber rotating bioreactor for the development of tissue-engineered hollow organs: From concept to clinical trial
M. Adelaide Asnaghi , Philipp Jungebluth, Manuela T. Raimondi, Sally C. Dickinson,Louisa E.N. Rees, Tetsuhiko Go, Tristan A. Cogan, Amanda Dodson, Pier Paolo Parnigotto, Anthony P. Hollander, Martin A. Birchall, Maria Teresa Conconi, Paolo Macchiarini, Sara Mantero
Both epithelial cells and mesenchymal stem cell-derived chondrocytes contribute to the survival of tissue-engineered airway transplants in pigs
Tetsuhiko Go, MD, Philipp Jungebluth, MD, Silvia Baiguero, PhD, Adelaide Asnaghi, PhD, Jaume Martorell, PhD, Helmut Ostertag, MD, PhD, Sara Mantero, PhD, Martin Birchall, MD, FRCS, Augustinus Bader, PhD, and Paolo Macchiarini, MD, PhD
---
---
Harvard Apparatus Regenerative Medicine Products
Advancing Regenerative & Tissue Engineering with NEW Systems for...
NEW 3D Bioreactors Systems

Harvard Apparatus/Hugo Sachs Elektronik has developed new systems to assist the regenerative medicine and tissue engineering researchers in advancing and accelerating 3D bioreactor experimentation. The ORGANizer™ Series solves the problems of simulating the proper physiological environment to accomplish successful tissue engineering or regenerative organ experiments. Using patented and proprietary technologies Harvard Apparatus has created a biomimic environment for specific organ or tissue generation. This provides you better research faster and at less overall cost.

The Harvard Apparatus ORGANizer™ Series has been designed in conjunction with leading regenerative researchers around the world and has been employed in successful regeneration experiments. The ORGANizer™ Series also incorporates the 109 years of experience Harvard Apparatus has in developing and manufacturing specialty physiological products and the expertise of Harvard Apparatus' world leading Hugo Sachs Elektronik group in developing isolated organ and perfusion systems. Hugo Sachs Elektronik systems for heart and lung have been used for regenerative organ research.

NEW Cell Engineering Products
Cell & Drug Delivery by Hand
or Stereotaxic Mounting

The PHD ULTRA™ Nanomite has a foot pedal for activation of injections. It has methods that can be called up with the touch of the LCD touch screen. With high accuracy and precision this cell delivery system easily delivers low nanoliter to tens ml/min injections with unmatched performance. This is combined with our micro needles to gauge 37. The Nanomite is light weight and easy to hand Hold.

The PHD ULTRA™ design for fast bolus infusion of 1ml/sec, able to deliver low nanoliter injections as well. Flow ramping for superior volume injections into organs with minimal physiological impact.

Harvard Apparatus also has a electroporation, electrofusion, femtomole cell injectors and liposome prep systems to advance your cell and tissue engineering experimentation
A Complete Family Of Cell Harvesting Products From Animal Models

Surgical Equipment
Surgical Instruments
Operating Tables & Lights
Ventilators from Mice to Large Animals
Anesthesia Circuits
Infusion Pumps
Vital Sign Monitors
...and More!

Physiological Assessment Analysis Tools – How Good Is Your Engineered Product

Ussing Chambers, Bilayer Workstations, Patch Clamps, Tissue Baths and Organ Baths can help you assess the physiology and electrophysiology of you engineered product.
NEW 3D Bioreactor Systems for Regenerative Medicine
Bioreactor for Hollow Organs, Bronchus, Trachea & Blood Vessels
ORGANizer™ Series Model 100 "In Breath"

Facilitates cell seeding procedures on both sides of a 3D tubular matrix, ensuring homogeneous plating
Allow seeding and culturing of different cell types on either side of the tubular scaffold
Enhance oxygenation of the culture medium and mass transport (oxygen, nutrients and catabolites) between the medium and the adhering cells

Stimulates the cells with hydrodynamic stimuli, favoring the metabolic activity and the differentiation process
Allows the achievement and maintenance of sterility and other criteria of Good Laboratory Practice (GLP), simplicity and convenience
Permits the possibility of automation and scale-up/-out

For the Development of Tissue-Engineered Hollow Organs

In Breath is a rotating double-chamber bioreactor designed for cell seeding and culturing on both surfaces of a tubular matrix and includes rotatory movement of the scaffold around its longitudinal axis. A polymeric culture chamber houses the biologic sample and the medium for the whole culture period. Cylindrical scaffold holders are constructed with working ends of different diameter - to house matrices of diverse dimensions - and a central portion of smaller diameter to expose the luminal surface of the matrix for cell seeding and culturing. A co-axial conduit links the inner chamber to the external environment through an appropriate interface at the chamber wall which provides access to seed and feed the luminal surface of the construct. Secondary elements moving with the scaffold holder induce continuous mixing of the culture medium to increase oxygenation and mass transport. The cell/matrix construct is moved by a DC motor (0-5 rpm adjustable) separated from the culture compartments. The connection between the motion unit and the culture chamber allows the first to remain in the incubator for the whole culture period, moving the chamber independently every time is needed (i.e. sampling, medium exchange). An external control unit regulates and monitors rotation. Autoclavability, ease of handling under sterile conditions, reliability and precision ensure the full compatibility of the device with the GLP rules (Good Laboratory Practice).

So Advanced It's Simple

Reactor container and spindle are made of Polysulphone, Teflon and 316 Stainless Steel allowing for:

Sterilization
Chemical inertness
Biological compatible material
Transparent for excellent visualization

Other Features

Reactor has quick fit spindle allowing the easy removal of the spindle and associated tubular organ for analysis or to take apart for sterilization
Rotational spindle assures proper oxygenation
Spindle has inner flow channels to assure inner tissues oxygenation

Easy-To-Use-Controller

Easily removable scaffold holder
Chamber fits in incubation chamber with controller outside
Offset cover allows for oxygenation of sample by non sheering ambient air contact
Quick release and disassemble of parts makes sterilization easy

Order #

Product

PY2 70-3005
ORGANIZER™ Series Model 100
Please Call for Pricing

Whole Heart Decellularization/Recellularization Chamber for Regenerative Medicine

Langendorff & Working Heart Perfusion System

Low flow resistance and dead space volume, minimize perfusion artefacts
Compact, does not require high water columns, suitable for hearts from hypertensive animals (perfusion pressure up to 300 mmHg is possible)
Constant pressure or constant flow in one unit
Drug injection pathway built directly into aortic perfusate stream
Modular system grows with your application
System specific electrodes and holders for precise measurements
All electrodes, catheters etc. are placed around the heart to have easy and direct access

APPLICATIONS

Cardioplegia studies
Heart transplantation models
Electrophysiology studies Monophasic Action Potential (MAP) single and multiple ECG measurements, dispersion of ventricular repolarization
In-depth hemodynamic applications including study of cardiac flow, LVP and pressure-volume relationships

WORKING HEART BENEFITS & FEATURES

Optimized atrium cannulating conditions
Easy to switch from the Langendorff mode (LH) to the working heart mode (WH) and back.
Temperature and oxygen loss minimal
Short atrial fill time (low flow resistance) resulting in optimal ventricle filling
Built in port for insertion of a catheter transducer for left ventricular pressure or pressure-volume measurement
Physiologic atrial and arterial pressure and flow waveforms
Compact aortic block

Exclusive patented Membrane Afterload System and compliance chamber, mimic physiological cardiac afterload and avoid damage to heart valves that occurs with water column based system
Integrated flow probe option for accurate real-time aortic flow measurement

Real constant preload system
Physiologic atrial pressure waveform
No stress on mitral valve by the pump like in constant flow mode
Preload pressure independent on the atrial flow
Integrated flow probe option for accurate real-time atrial inflow measurement (cardiac output)

The IH-9 utilizes the proven architecture of our smaller IH-5 to set the standard for isolated heart perfusion in minipigs and small domestic pigs. Engineered for the increased flow produced by these species, the IH-9 offers ultimate perfusion stability and real physiological conditions for longer, more relevant recordings with fewer artifacts.

Both Langendorff and Working Heart versions allow a choice of measurement capabilities with dedicated capability packages available for specialized applications.

Perfusion of such larger hearts creates the opportunity for detailed study of cardioplegia and reperfusion after cardioplegia. With dedicated transducers, electrodes, positioners, amplifiers and software for a complete cardiac electro?physiology workstation, the IH-9 allows cardiovascular studies as well as measurement and analysis of multiple ECG and MAP signals.

Additional Options Include

Transducers, probes and amplifiers for: realtime flow, isovolumetric LVP,
temperature etc... (see section I)
Dedicated holder for measurement of MAP-potentials and ECG (see page K14)
Dedicated optional perfusion circuit for additional perfusion with eg. perfluorcarbon
emulsion and with port for Cardioplegia solution application
Dedicated software ISOHEART for data acquisition and analysis (see pages K79 to K80)
Software option to ISOHEART for flow proportional drug addition using a syringe pump
Electrodes and stimulator for pacing (see page K70 and section I)
Sensor and amplifier for oxygen consumption measurement
Large choice of accessories: thermocirculator, jacketed reservoir, holders etc...
(see pages K65 to K75

System Description

The functional principle of the IH-9 is the same as for the IH-SR and IH-5 The IH-9 is improved for low volume and high environment stability.

All of the components are mounted on the main heart cover chamber, except for the pumps, the oxygenator, the thermostatic circulator and the PLUGSYS amplifier system. Special attention has been made to ensure that all critical connecting tubing are maintained short, thus avoiding any cooling through a temperature gradient to ambient temperature and any system given flow resistances.

The key part of the system is the unique aortic block which is the interface between the heart and the IH-9. The bubble trap, compliance chamber, patented flow resistance membrane, infusion and measurement ports are all integrated into this single specialized component.

The modular nature of the IH-9 allows the system to evolve along with your research. A Langendorff system can easily be upgraded to full Working Heart; and any IH-9 can be upgraded with special purpose capabilites like multi-channel ECG and MAP for a complete cardiac electrophysiology workstation.

The connection to the heart is made through interchangeable aortic cannulae and atrial cannulae in working heart extension. The heart chamber acts as reservoir and the perfusate containing erythrocytes is oxygenated by a special membrane oxygenator. In the Langendorff mode, heart contractility is measured using a balloon inserted into the left ventricle and connected to a pressure transducer.

Additional equipment required: thermocirculator, peristaltic pumps, transducers, monitoring system setup using the PLUGSYS Amplifier System. Data acquisition and Evaluation using ISOHEART software. See pages K79 to K80.

Cardioplegia Option

A special option allows heart transplantation and cardioplegia studies. With this option the heart can be perfused from a second perfusion circuit in retrograde mode using a different perfusion solution e.g. perfluocarbon emulsion. Cardioplegia solutions are injected or infused via a dedicated port.

Order #

Product

PY2 73-2360
Basic Unit for Isolated Heart Size 9 Type 842
Cardioplegia Option
PY2 73-2362
Additional Perfusion Circuit to IH-9
PY2 73-2363
Cover for Heart Chamber for Cardioplegia Cooling
PY2 73-2262
Cardioplegia Cooling Chamber
PY2 73-2481
Low-Temperature Thermostatic Circulator RE 207
Please Call for Pricing

Whole Lung Decellularization/Recellularization Chamber for Regenerative Medicine

Optimized temperature conditions for the isolated lung, unique jacketed thoracic chamber
Optional operating table for non-damaging in-situ preparation
Negative-pressure ventilation similar to in-vivo condition or positive pressure ventilation available
Low flow resistance and dead space volume, minimize perfusion artifacts
Unique built-in pneumotachometer and air humidifier with small dead volume
Drug injection pathway built directly into pulmonary perfusate stream
Unique compensation system for vascular transmural pressure changes
Dedicated option for continuous measurement of lung weight (Edema)
More measurement parameters than any other system

APPLICATIONS

Studies on combined respiratory and vascular effects
Physiology:

Hypoxic vasoconstriction
Edema formation

Pharmacology:

Action of histamine, arachinodic acid metabolites

Inhalation toxicology:

Environmental toxins (ozone, sulphur dioxine)

Biochemistery:

Metabolic activity (biogenic amines, prostacyclin, angiotensin..)
Surfactant biochemistry

ADDITIONAL OPTIONS
INCLUDE

Dedicated PLUGSYS ventilator module for negative or positive pressure ventilation VCM (see page I58)
Dedicated PLUGSYS module for regular induction of hyperinflation of the lung TCM (sigh, augmented breath) (see page I58)
Transducers and amplifiers for respiratory mechanics measurement: airflow, tracheal pressure, thoracic chamber pressure
Transducers and amplifiers for perfusion measurement: realtime flow, perfusion pressure, venous pressure, temperature etc... (see section I)
Dedicated software PULMODYN?for data acquisition and analysis of respiratory mechanics and perfusion (see pages I90 to I91)
Optional connection for external ventilator (see section F) for testing barotraumatic ventilation
Optional connection for supplying alternative gas mixtures and/or aerosols
Sensor and amplifier for continuous perfusate analysis (pO2, pCO2, pH)
Deoxygenation using membrane oxygenator of blood or erythrocyte containing perfusion
Large choice of accessories: thermocirculator, jacketed reservoir, holders etc... (see pages K65 to K75)

Basic System

The basic setup consists of a Plexiglass base with two stable vertical steel columns. The main system is mounted on a Plexiglass panel which is fixed on the two steel columns. This allows the system to be modified or extended to suit different versions or for special applications.

The essential part of the system is the artificial thorax. It consists of a water-jacketed glass chamber sealed by a special cover. The cover is mounted on the Plexiglass panel, the glass chamber is fixed underneath it with two metal clips. The inner part of the cover is the organ holder with the connections for cannulating the trachea (ventilation), the pulmonary artery and the left atrium (perfusion).

Ventilation of the lung is possible under negative pressure as well as under positive pressure (the latter is essential during the preparation phase). The ventilation parameters are controlled with a special PLUGSYS Ventilator, the "Ventilation Control Module" (VCM, Type 681).The ventilation medium (air or gas mixture) is constantly humidified by the built-in humidifier.

An optional operating table with trough is mounted on the base plate in front of the artificial thoracic chamber. The organ holder with the connections for the trachea (ventilation) and for the pulmonary artery and pulmonary vein (perfusion) can be removed from the main cover to allow an easier preparation and optimal non traumatic lung transfer from the animal to the system. The lung is continuously ventilated at positive pressure until it is placed into the artificial thorax. Then a simple valve permits instantaneous changeover to negative pressure ventilation.

Perfusion

Lungs can be perfused by either constant flow or constant pressure. Although constant flow perfusion may mimic the in vivo situation more closely, it has the disadvantage that hydrostatic edema becomes inevitable during vasoconstriction. Constant pressure perfusion permits higher perfusate flow rates since vasoconstriction decreases perfusate flow and hydrostatic edema is less likely to occur.
Can be configured in one of three different perfusion modes:

Constant Flow Perfusion
Constant Pressure Perfusion
Dual System to Switch from Constant Flow to Constant Pressure and Vice Versa

Lung Weight Changes

Continuous measurement of weight changes of the lung is required for monitoring edema formation. This is possible during negative pressure ventilation inside the thoracic chamber by using the HSE-Edema balance LS 30 (weight transducer) (PY2 73-0593). Weight changes induced by raising or lowering the perfusion pressure can be used to assess vascular permeability by determining the filtration coefficient.

Extensions

Several adapters are available to work with ventilators, to supply different air mixtures to the lungs or to connect aerosol nebulizer for aerosol challenge.

Order #

Product

PY2 73-2266
Basic Unit for Isolated Perfused Rat
and Guinea pig Lung Size 2 Type 829 (IL-2)
PY2 73-1741
VCM-P PLUGSYS Ventilation Control Module
Please Call for Pricing

The PHD ULTRA™ Nanomite for Cell & Drug Delivery When You Have Limited Samples for Cell Therapy

Light weight makes ideal hand-held or stereotaxic injection
Easy-to-use LCD color touch screen with GUI interface
Multiple methods make running simple or complex methods easy
High performance in a small package
1000 times better than manual syringes

Foot pedal activation of injections for hands off injections. Methods that can be called up with the touch of a button and completely re-load a new methods parameters.

With high accuracy and precision this cell delivery system easily delivers 1 to 100µl injections with unmatched performance from up to a 1ml syringe.

This is combined with our micro needles down to gauge 37. Light weight and easy to mount or hand Hold.

Order #

Product

PY2 70-3601
PHD Ultra™ Nanomite
Please Call for Pricing

The PHD ULTRA™ for Cell & Drug Delivery for Small to Large Fast Bolus Injections for Cell Therapy

Inject fast bolus of large or small volumes in a second
The highest accuracy and precision available
Programmable with multiple methods
Can be controlled by foot pedal or computer
Easy-to-use icon interface
CE, ETL, CSA, UL and CB scheme Global compliance
Delivery from picoliter to hundreds of Ml/min

PHD ULTRA™ can deliver compositional variations automatically, % mixing of 2 or 3 liquids Concentration mode can automatically adjust the flow to dose animals of different weights with the same % dose. Hundreds of methods can be stores for one button recall, making PHD ULTRA™ the ultimate in easy to use. Methods can be e-mailed and download from your PC into the pump. Share a method with a collegue or duplicate a complex experimental set-up with an e-mailed method. PHD ULTRA™ Series is ideal for electrospinning and dosing reactors (micro and macro).

Order #

Product

PY2 70-3005
Infuse Only PHD ULTRA™
PY2 70-3006
Infuse/Withdraw PHD ULTRA™
PY2 70-3007
Programable Infuse/Withdraw PHD ULTRA™
Please Call for Pricing

Advanced Cell Engineering & Regenerative Medicine Solutions

SWS-10, SWS-60 & SWS-140 Syringe Warmers

Order #

Model

Product

PY2 64-1584
SWS-10
Syringe Heater for 10 cc Syringes
PY2 64-1560
SWS-60
Syringe Heater for 60 cc Syringes
PY2 64-1585
SWS-140
Syringe Heater for 140 cc Syringes
PY2 64-1545
TC-124A
Temperature Controller, 240 VAC US
PY2 64-1545E
TC-124AE
Temperature Controller, 240 VAC Europe
PY2 64-1655
TC-144
Temperature Controller
PY2 64-1606
BAC-1
Battery Adapter Cable
Please Call for Pricing

SC-20 Dual In-line Solution Heater/Cooler

Heats and cools from 0° to 50°C
Compatible with Warner Series 20 Chambers
Optimized for use with the CL-100 Bipolar Temperature Controller

In-line solution heating has proven to be one of the most effective methods of maintaining the temperature of perfusion solutions. The SC-20 Dual In-line Solution Heater/Cooler utilizes Peltier thermoelectric devices to regulate temperature both above and below ambient levels.

The SC-20 is designed to thermally regulate one or two solutions at the same temperature. Solution temperature can be maintained at 0°C at flow rates of 2 ml/min., 5°C at 5 ml/min., or as high as 50°C at 5 ml/min.

An integral water jacket is used to remove excess heat from the SC-20 peltier device. Running water either from a tap or a large reservoir can be used. Flow rates as low as 4 liters per hour are sufficient to maintain cooling efficiency.

The SC-20 can be used with either one or two discrete perfusate solutions, or with a solution/gas combination. When coupled with a PHC Series Imaging Chamber Heater/Cooler Jacket, the SC-20 provides an effective means of temperature control in a Warner chamber, even in the absence of solution flow.

Each SC-20 is supplied with a TA-29 Thermistor Cable Assembly for monitoring the bath temperature during use, 10 feet of PE-160 tubing and 10 feet of 1/8" I.D. x 1/4" O.D. Tygon tubing.

Order #

Model

Product

PY2 64-0353
SC-20
Solution Heater/Cooler Two Line
PY2 64-0352
CL-100
Bipolar Temperature Controller
Replacement Parts
PY2 64-1545
TC-124A
Temperature Controller, 240 VAC US
PY2 64-1545E
TC-124AE
Temperature Controller, 240 VAC Europe
PY2 64-1655
TC-144
Temperature Controller
PY2 64-1606
BAC-1
Battery Adapter Cable
Please Call for Pricing

Valves/Controllers (Fluids & Pressure) & Fluidic Chips
Cell Injection System

Microinjection is a well established technique used routinely for injection of animal cells, tissues and embryos to insert genetic material such as DNA, RNA, proteins and macromolecules directly into animal cells or embryos a cell cytoplasm or nucleus. Genetic material is inserted via a needle varying in size from 0.5uM to 20uM in diameter. The needle penetrates the cell membrane and/or the nuclear envelope. The process is performed, observed and controlled by using a micromanipulator specialized microscope set up. This technique is widely used by researchers for genetic engineering of cells by modifying, silencing or creating knockouts to study gene targeting and function. Microinjection and electroporation can be combined for the transfection of mammalian cells and tissues for gene therapy applications. This highly effective method is routinely used to insert genes into early stage pronuclear embryos for transgenic development applications for therapeutics. Microinjection is routinely used for nuclear transfer applications, cell biology and viral studies.

Manifold/Connectors, Needles & Tubing

Tubing, Connectors and Manifolds

Harvard Apparatus has a wide range of tubing, connectors and manifolds so you can create the fluid pathway to meet your specific requirements. We offer many types of tubing of different materials and sizes. Our fluid manifolds start at 2 channels and go all the way up to 24 channels. We have a multitude of connectors that allow you to complete the fluid connections and complete your system. Please call our technical support staff for additional information.

Sensors (Direct & Side Stream)

Air flow
Bio-Electric signals
Electrodes
Flow
Force
Hygrometers
Ion Sensors

Pressure
Respiration
Spill
Sound
Time
Temperature
Special Nibp, Heart Rate, O2,
Co2, Ekg, Map

Battery Powered Spill Sensor System

Protect your microscope
Audible alarm
TTL cutoff circuitry
Compatible with upright and inverted microscopes
Easy set up and installation
Complete system

Warner Instruments is pleased to provide a system to detect solution leaks before they cause a problem. This system is ideal for all environments where leak detection is critical such as on a microscope or in a chemical cabinet.

The heart of the system is comprised of a special moisture sensitive mat that has been specifically developed for detecting the presence of fluids. As little 3 drops of liquid are sufficient to trigger the system.

A simple connection between the moisture sensitive mats and the spill sensor controller arms the system. When as little as three drops of liquid come in contact with the moisture sensitive mat an audible alarm is sounded. In addition, an alarm condition switches the state of a regulated TTL output on the Spill Sensor allowing you to dynamically control attached devices.

The Spill Sensor System is supplied with four 30 x 30 cm mats that can be cut to any size or shape using sharp scissors or a straight edge.

Order #

Model

Product

PY2 64-1546
Spill Sensor System, Battery Powered
Accessories and Replacement Parts
PY2 64-1522
MAT-1
Overflow Sensor Replacement Mats, set of 4
PY2 64-1523
MAT-2
Overflow Sensor Mats and Cable (4 Mats)
PY2 64-1589
JC-1
Jumper Cable Used to Connect Two Overflow Sensor Mats
Please Call for Pricing